Odyssey Batteries - When only the best Performance AGM battery will do - from Element 82
Odyssey Batteries (introduced to NZ in 2002 and sold by us since) have been synonymous with Motorsport, Aviation, & Marine since we introduced these models and this high level of performance to New Zealand in 2002. We've seen the range grow from 7 models to over 30. Recently EnerSys (the manufacturer) purchased Northstar, a rival company started by ex-EnerSys engineers which have grown the range even further to include group 24 & BCI 27 sized batteries which are most commonly used in Marine. There are also two new front terminal models which will find a place in reserve power applications with 900 deep cycles to 50% DoD with PSoC technology.
The introduction of the Range split with ODX - Extreme Series the ODP - Performance Series (BCI - standards sized automotive/marine batteries) including the DIN size batteries has really propelled Odyssey into new heights of integration with Euro vehicles, OEM replacements and the larger reserve capacity requirements in marine with the inclusion of the 4D and 8D sizes up to 240Ah. The ODS range of PowerSports and non-BCI sizes (cover the original smaller sizes like the PC680 and PC925). All these new model numbers are reflected on our websites product pages.
We carry the largest range of Odyssey batteries in Australasia, hold downs and terminal options or with or without metal jackets to suit all your needs. We have been distributing Odyssey Batteries since 2002 and are supported by the U.S. factory, not something everyone can claim when they parallel import. Our range is regularly turned over so our batteries aren't old or sulphated like some so-called NZ authorised distributors. In fact we carry a larger range than EnerSys themselves and without all the middle-men or resellers, direct to you.
ODYSSEY batteries are shipped fully charged. If the ODYSSEY battery's voltage is 12.65V or greater, simply install the battery in your vehicle and you are ready to go! If below 12.65V, boost or float charge following the instructions in the ODYSSEY battery Owner's Manual and/or Technical Manual.
If however you are using a total loss system you should always charge your battery before and after racing.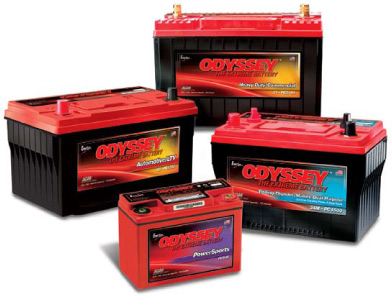 Our Odyssey AGM battery range now includes 25 stocked models. We ship these throughout New Zealand as well as being available through your installer of choice. We believe sometimes the best service is local to you, where installation, testing a sighting your needs is best done by somebody you can talk with face to face. We supply all types of accessories for the batteries and are known for our technical knowledge and experience. Also, we have plenty of free advice that can be found in our Frequently Asked Questions section.
Contact us for availability and shipping options. 09 476 4171